What do you think about electric cars? That's a question which evokes a surprisingly strong reaction. Few people, it seems, are indifferent to the topic of changing what we drive. Some think electric cars will help save the planet; others think they're a do-gooder's overpriced and overrated flavor of the month.
History
The automobile, one of the icons of the Industrial Revolution, has been with us for more than a hundred years. During that time, it has evolved to an astounding degree of complexity that surprises many. For instance, many family SUVs today perform better than the exotic Ferraris and Porsches of just a few decades ago, with improved safety, gas mileage and reliability (not to mention the on-board entertainment systems, air conditioning and power steering, brakes, and windows).
Ironically, though, electric cars were more popular than the gas-powered internal-combustion-engined cars we take for granted today. John D. Rockefeller and Henry Ford used their considerable wealth and influence to steer development in directions which made them the most money, and when gas stations outnumbered electric charging stations, the fate of the electric car was sealed.
In the previous century, all the major manufacturers dabbled with electric cars, especially after the first oil crisis of 1973, which saw dramatic hikes in the price of oil.
Technology
An electric motor has several significant performance advantages over an internal combustion engine. Electric motors last about ten times as long as an internal combustion engine, and weigh much, much less.
But where electric cars really outshine conventional automobiles is in their ability to accelerate. If you have ever tried to pull away from a stop light in your car, you might have noticed your engine struggling at low revolutions per minute (RPM), building up "steam" as the revs climb.
An electric motor, by contrast, has full power right from the start. That means an electric car doesn't need a four- or five-speed transmission to keep the engine operating in its sweet spot. In fact, it doesn't need any transmission at all (other than a switch between forward and reverse).
One of the most vivid examples of the electric car's power advantage over conventional engines is a 1972 Datsun, which accelerates from 0-60 in under 2 seconds, performance generally reserved for exotic super cars costing well over a quarter of a million dollars.
Given the immense power advantages of an electric motor versus an internal combustion engine, one might wonder why high-performance cars haven't all switched to electric motors.
So, Where Are All the Electric Cars?
What's keeping electric cars from taking over and saving our planet? In a word, storage. Your conventional automobile stores its energy in a gas tank, while an electric car requires its batteries to store energy. That leads to the vast differences between the two types of vehicles:
You refill your standard car's energy needs for the next 300 miles in a few minutes, but that kind of refill for an electric car can take all night.
There are hundreds of refilling stations for internal combustion engines, but far, far fewer for electric cars.
Then there's also the vast difference in the weight needed to carry enough energy for a 300 mile range — so much so that most electric cars have to make do with shorter ranges.
Batteries and gas tanks fulfill the same function — storing energy for your next few trips, but a pack of batteries costs hundreds of times more than a single gas tank which holds the same amount of energy.
It's that weight factor that led most manufacturers to focus on low-end models for their electric cars. Chevy's Volt and Nissan's Leaf are both compacts, as was the GM EV-1 of the 1990s.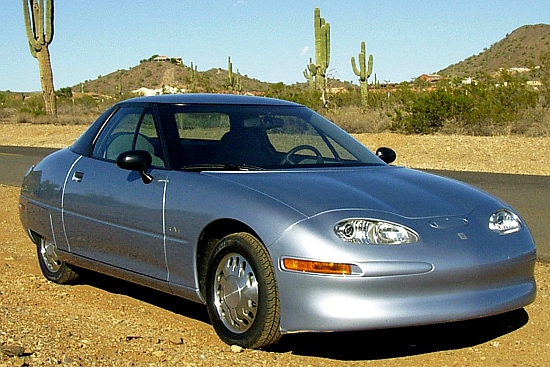 The EV-1 met a controversial end: General Motors scrapped them all, despite the fact that many owners were willing to buy them at inflated prices and indemnify the auto giant from all liability.
In the years following the demise of the GM EV-1 and Honda EV Plus, green motoring shifted from all-electric vehicles to hybrids, which are powered by both electric and internal combustion engines.
Along Came Tesla
Elon Musk, the founder of Tesla Motors, grasped that electric motors have a much larger advantage over internal combustion engines when it comes to higher-end applications. It appears he thought a high-end electric car can compete much more effectively against its peers than an economy electric. So he first launched a sports car, and then he aimed straight at the heart of the high-end car market — the Mercedes-Benz S class.
The numbers seem to vindicate Mr. Musk. His Tesla S has outsold the Mercedes S-class in 2013 by more than 30 percent: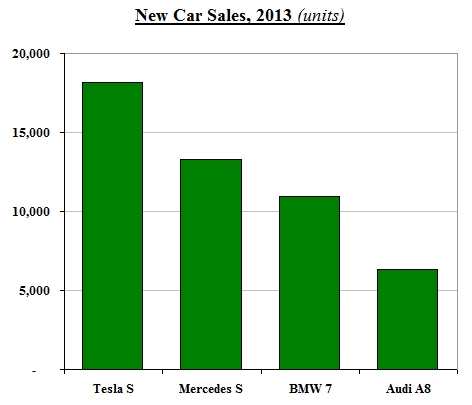 How Does This Affect You?
At this point, you might say, "Well, that's all nice and dandy if you can afford cars in that price bracket. I'm not in it, so why does this interest me at all?"
Here are a few reasons:
1. Mr. Musk is planning to move down-market as Tesla develops new models. His commitment is to capitalize more fully on the inherent advantages of electric cars with each successive model. That means the odds are good that Tesla's lower-end models will outsell their peers making them the new standard.
2. Along the way, electric recharging stations will become more plentiful and the range from battery packs will grow. The world as we know it may well be in for a change.
3. The pressure on the electricity generation industry and the grid will grow. That growing stress may well result in power outages becoming more common … or further the growth of alternative energy sources.
4. We may be witnessing the birth of a new normal, a bit like the Model T created new ways of living, many of which we still take for granted. Because Tesla has opened their inventory of patents for anyone to use, it is entirely possible that the market may become flooded with electric cars which deliver on the full promise of the inherent technology — so it's not Tesla the company that might change our lives, but the industry it helps to foster and grow.
Changes to the way we live never happen smoothly or without controversy and bumps in the road — and this change likely won't be an exception to the rule either. However, the sales success of the Tesla S is opening more peoples' eyes to the inherent superiority of the electric car. Forget the environment; we're just talking as a car. As technology addresses the battery problem, electric cars will become more and more integrated into our lifestyles.
When that happens, the car you want to buy in the future will move into the sights of those designing electric cars. The question is: When they do that, will you be open to something that different?