Awhile back, I ran across an amazing infographic by Randall Munroe, creator of xkcd. I haven't mentioned it until now, however, because I didn't really have time to dig into it. But now that I have, I have to say that I'm very impressed.
This infographic (picture in miniature below) is absolutely huge, and it comes with a giant list of sources. In it, Munroe works his way through a series of monetary visualizations at multiple levels. He starts out with dollars, then zooms out to thousands, millions, billions, and trillions.
He tackles both mundane, everyday issues (the cost of a cup of coffee, the annual cost of pet ownership, etc.) and scales up to bigger picture issues, like a comparison of how household net worth values has changed over the past 25 years, a visualization of household income by quintile (and even finer divisons), presidential fundraising, charitable giving, corporate revenue, federal spending, the derivatives markets, and more.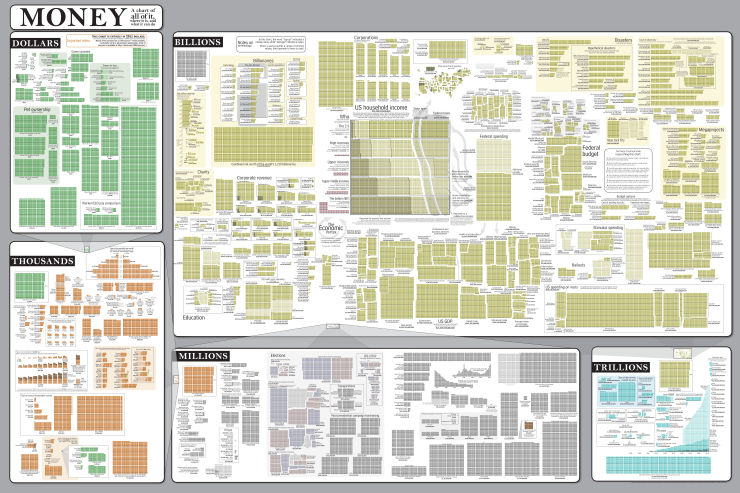 (click image to enlarge)
He even includes interesting tidbits like the cost to buy the world a Coke ($2.24B), the cost to teach the world to sing ($840B), the cost to fund Wikipedia for 100 years ($1.85B), and the total economic output of the human race so far (a little less than $2.4 quadrillion, with roughly 60% of that since 1980).
The entire infographic spans 12, 528 x 8352 pixels, so be prepared for some scrolling.
If you take the time to dig through it, please come back and post the most interesting tidbits that you found.