While perusing GetRichSlowly yesterday*, I discovered an amusing comic strip related to the high cost of raising kids.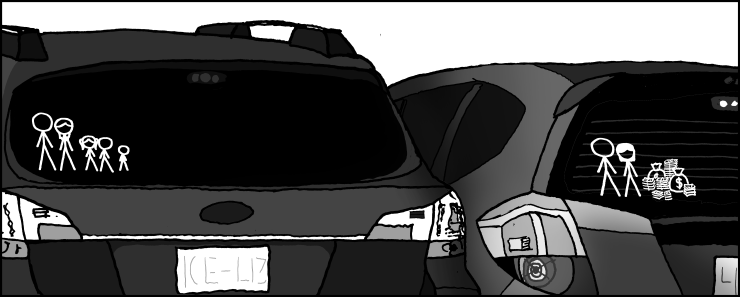 (click to enlarge)
This is funny (to me at least) in large part because it's true. As a father of four, I can say with certainty that kids are expensive. Yes, there are lots of things that you can do to cut costs — and we do many of them. But there's no avoiding the fact that it costs more to support more people. And that extra money spent takes away from what you could otherwise be adding to an investment portfolio.
Of course, this isn't to say that kids aren't worth the cost. That's obviously a very personal decision. In our case, we've certainly had no regrets. But that doesn't change the fact that there are a number of financial tradeoffs involved.
It's been suggested that the cost of raising a child from birth to age 17 is well over $200k. I've never sat down and tabulated the cost, but here are just a few things that come to mind.
Lost earnings (stay-at-home-parent) and/or childcare
Baby stuff, toys, etc.
Higher grocery bills for feeding more mouths
More clothing for more bodies
Larger house to accommodate more people
More home furnishings to fill that house
More expensive house from living in a better school district
Higher property taxes from living in a better school district
Private school tuition if you live in a bad school district
Larger car (depending on how many kids you have)
Gas money for all the extra errands, practices, etc.
Piano lessons, taekwando, sports registrations, etc.
Increased health insurance costs (premiums, copays, etc.)
Increased life insurance costs (a bigger policy to support more people)
Increased car insurance costs if/when you have a teenage driver
Increased travel costs (e.g., airfare x family size)
College education (if you choose to help them out)
And the list goes on…
Of course, you have to trade some of these things out against the costs you might incur in the absence of a family obligation. For example, due to the higher cost of traveling, you might opt for a relatively cheap summer camping trip or a trip to the beach rather than the trip to Europe that the couple next door just took.
And there are, of course, economies of scale… While some of these expenses increase linearly, others do not. The second (and third and fourth) kids don't double (or triple or quadruple) your costs.
But the larger point still stands. Kids are costly, and you have to be comfortable with that (or at least aware of it) when deciding to start a family.
*Note: I actually discovered this article when reading JD's article about the XKCD comic strip on compounding interest vs. earning more money. While some of JD's numbers are suspect, he (and the comic strip) make an excellent point. While smart investing is great, you can't ignore the power of increasing your earnings.