This guest post is from William Cowie, who has contributed to Get Rich Slowly and other personal finance blogs. He also blogs about investing and offers a free Investing Basics course on Bite the Bullet Investing.
Everywhere you look, the story's the same: the value of your house is going up. The National Association of Realtors reports that home prices for March were up about 12 percent from a year ago, a trend that's been holding for more than a year now.
How does that make you feel?
Does it make you feel nice and rich? Or simply relieved that the end is in sight: your underwater home loan might soon break the surface and see sunlight for the first time in years? Or, if you don't have a home and you want one, are you feeling a sense of panic, that your dream of owning your own place is slipping through your fingers?
If you answered yes to any of those questions, you're probably tempted to do something, because you might not have the chance again soon.
Slow down, take a deep breath and fetch your trusty calculator.
The big picture
Home prices go up, and they go down. Many of us realize this in one part of our brain, just not always the part that makes home buying decisions. (Everyone who bought between 2005 and 2008 probably can relate to that.)
This chart clearly shows the swing in home prices (click image to enlarge):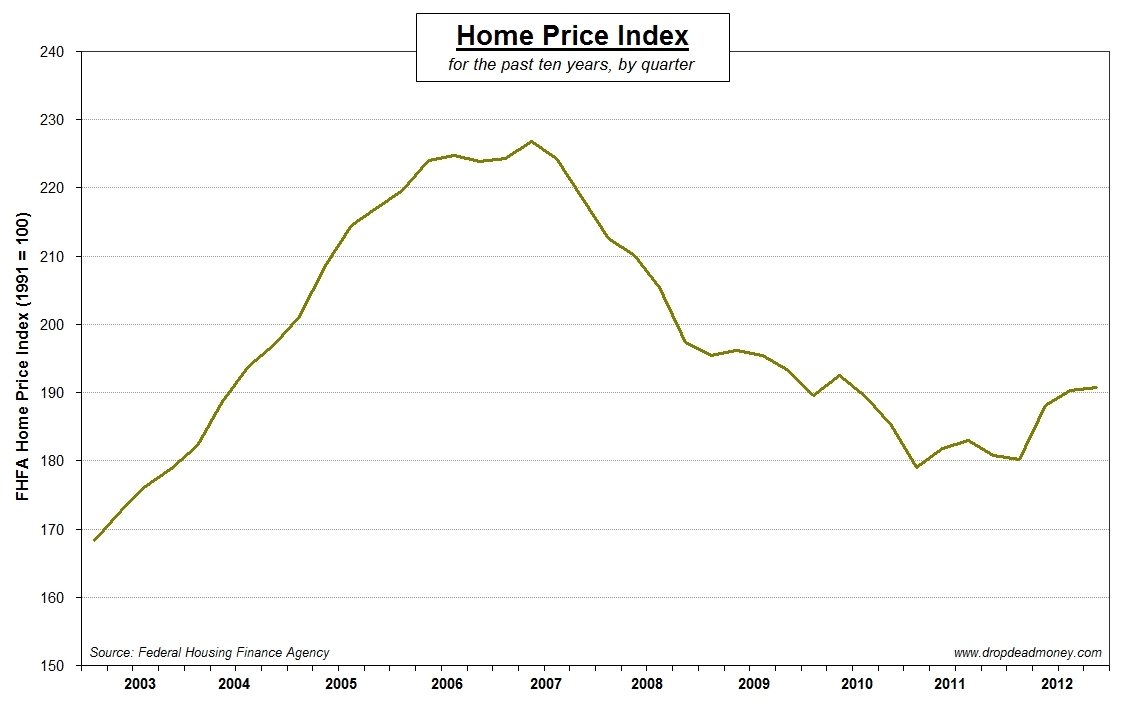 U.S. home prices for the past 10 years: up and down
Home price movement is not random; it's part of the overall economy, which moves in cycles which lasted roughly 7 to 10 years each since World War II. (Here's a good chart showing that.)
What do you do?
The chart above shows that home prices bottomed out sometime in 2011 and have begun their cyclical upswing. Will prices ever hit the peak of 2006-07? If so, when? It could take two years, it could take 20. The economy moves slowly, as do home prices, even though at times it feels like lightning.
Regardless, I think it's safe at this point to expect home prices to continue rising for the next year or two at least.
So, how do you play the cycle for your benefit? You have four choices:
Trade up
Trade down
Trade sideways
Do nothing
As my neighbor Jim pointed out, moving is very expensive, and is guaranteed to set your net worth back by at least $30, 000 after you factor in things like new drapes, furniture, appliances and even garden tools. From a purely financial standpoint, then, the last option is the only smart one. There are, of course, other life reasons which might compel a move, it's just important to remember that it's very expensive.
But, let's say you're interested in capitalizing on your newfound wealth by selling your current home and buying something nicer. Ever notice how, when you're buying something more expensive, you don't call it more expensive, but rather "something nicer"? But when you're buying something cheaper, you never say "something less nice"? This isn't a trivial observation; this is the part of the brain that overlooks hard financial data when we're about to make a bad financial decision. We always tell ourselves the nice version of what we're about to do. It's called rationalizing.
Rationalizing or not, you decided you want to get a nicer house, and you want to take advantage of the growing equity in the home you currently own. So, is it a good idea to wait till you get more equity in your own home before you trade up?
In order to make the best decision, consider the following:
1. You're chasing a moving target
If the price of your home is going up, so is the price of the place you have your eye on. That might seem like a pretty obvious observation, but you'd be surprised at how many people assume theirs is the only home price rising.
2. Homes are priced in dollars, not percentages
As a general rule, the higher up you go in the housing food chain, the bigger the price swings measured in dollars: 10 percent of $900, 000 is $90, 000 and 10 percent of $200, 000 is only $20, 000. Both are 10 percent (as in "home prices are up 10 percent") but the dollars are very different.
3. Your key number is the price difference.
This means if you're trading up, the key number for you is the price difference… in dollars. Sound obvious? Keep reading.
The math
For the sake of round numbers, let's say your current house is worth $200, 000 and the nicer house is $250, 000. (The actual amounts don't matter, they scale to whatever you're looking at.)
Your key number is the difference in those home values: $50, 000… today.
In the recession, your house was probably worth, let's say, 20 percent less than today, $160, 000. The house you're eyeing (let's call it your dream house) also went for less in the recession. If your home was down 20 percent, that one would also have been down 20 percent.
So, four years ago your dream house went for about $200, 000.
At that time, then, the difference between your current house and your dream house was $40, 000, compared with $50, 000 today. Same two houses.
Now, let's say the economy starts going gangbusters and your current house appreciates even further. Your dream home will, too.
Let's say you decide to wait till you have more equity before trading up to your dream house, and let's say at that point the prices are $300, 000 and $375, 000 for your current and dream houses, respectively.
You can see math clearly: the difference to trade up would have gone up to $75, 000, from $50, 000 today and $40, 000 in the recession.
For the same trade.
Conclusion
A dollar is a dollar, and you have to repay it, with interest. You pay the fewest dollars for a trade up when you feel at your poorest, i.e., in the recession. And when you feel the richest is when you pay the most for the exact same trade.
So, waiting till you have more equity with which to trade up is an illusion. It never gets better, only worse.
The best time to trade up is as close to the bottom of the recession as you can. The longer you wait, the more you pay.
Conversely, if you're considering a trade down (empty nesters, for example) the best time for that is when home prices are at their highest. Of course, we never know exactly when "the highest" is, but you get the math.
You might feel rich hearing the value of your house is going up. However, until you stop living in your current home, its price is really irrelevant, good for after-dinner conversation (in good times and bad) and not much else.
The only number that matters is the price difference if you're trading up or down.
Finally, if you're thinking you'll never have the opportunity to buy your first home, be patient. I succumbed to that thought and stretched too hard to get a house, thinking that was my last chance. Huge mistake. Prices will come back down. They always do. Keep saving and wait.