If so, you might be in a better position than you think. The Bureau of Labor Statistics, or BLS as it's more commonly known, keeps track of more than just unemployment statistics. Any time geeks try to analyze something, they go into inordinate detail, which glazes over the eyes of everyone trying to understand what they say, until the audience finally cries, "No! Stop! Please … just bottom-line this for me." Always happy to oblige, the geeks then distill everything down to a single number. You would think that would make the readers/hearers happy. You would be wrong, of course, because then the audience complains that the single number doesn't say everything.
The BLS has more than your average population of geeks, because statistics are their reason for being. Many people, as you may know, are highly critical of the most common unemployment statistic which is blasted over the news waves every month. It doesn't capture this, or it misstates that. Geeks are people, too, and their feelings get hurt, too. So they do what stats boffins usually do: They compensate by adding more statistics … and we're the beneficiaries.
Other Job Data
Few people probably know or pay attention, but the BLS runs a set of statistics called JOLTS, for Job Openings and Labor Turnover Survey (and yes, you can just imagine the committee meetings that went into picking a name to make up a cute acronym like that).
I like the JOLTS data set, because it provides a depth and a color to employment statistics which the more commonly known Current Employment Statistics (CES) doesn't capture. Because it's a survey, it is hard to hang your hat on the absolute numbers offered for any point in time. However, because the methodology has been relatively consistent, the true value of the JOLTS is that you can track trends over time. That's probably of more value than the absolute number on a particular date, anyway.
The two statistics I follow for my tracking of the economy are job opportunities and what they call quits, which is the number of people who quit voluntarily (as opposed to be being laid off or fired). The reason these two statistics are important is they both represent what I call the true measure of employment opportunities.
Here's why: When you're looking for a job and there aren't any jobs available, your chances of getting a job are pretty slim. When your job options are limited, you are not easily going to leave it unless you have a sure thing lined up to replace it, are you?
On the other hand, as the number of job openings increases, so do your chances for getting the job you want. No guarantees, of course, but your odds improve because of the improving climate.
Therefore, those two statistics, (opportunities and quits) offer a different perspective on the state of employment in America. I usually combine them, for no reason other than (again) to try and create a single trendline.
Here's what it looks like as of June, 2014 (the latest available).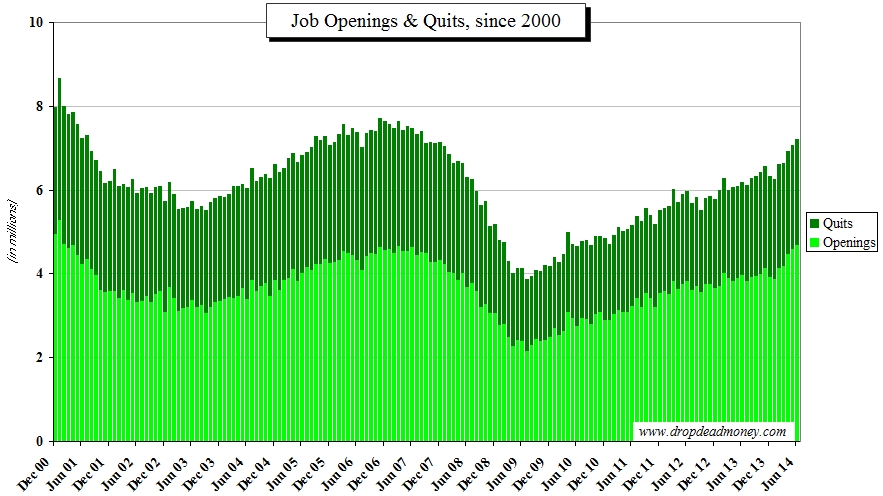 From the chart, you can see the number of job opportunities is close to the pre-recession peak. However, many people have remarked that that doesn't say much: Many of the posted openings are for entry-level jobs, or jobs which pay close to minimum wage. Fast-food joints and hospitality jobs make up the bulk of those jobs. You can't raise a family on minimum wage, so you can't count on those kinds of jobs to prosper, individually or as an economy.
In other words, you have to consider not just the number of jobs, but what they pay.
So I put on my glasses and went to the data. The Census Bureau's data indeed seems to support the criticism. Take a look at median household income since the mid-eighties: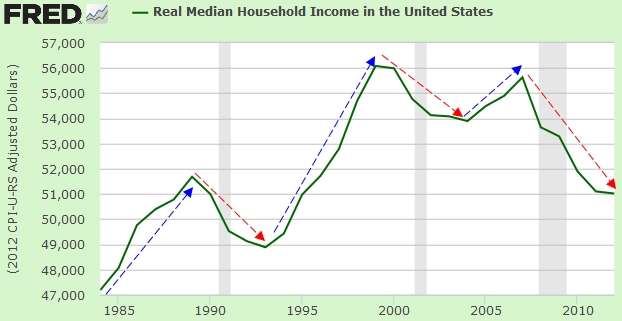 Here's an interesting observation: Median household income took a dive shortly before each official recession, and lingers a year or two beyond the trough of the recession. Then it recovers. In the two economic cycles before the Great Recession, the period of prosperity (blue arrows) was longer than the period of pain (red arrows).
Not so with the Great Recession. The runup in income before its peak was shorter than any of the prior two cycles, and the slide is already longer than the preceding runup and any of the previous slides.
In other words, it would seem that pay levels have gone down. (In passing, this could explain why a relatively low rate of inflation feels so much more painful than the numbers imply.)
But, here's the paradox: When you look at how many people quit voluntarily, you would expect a tough job market to discourage people from quitting on their own. However, the data says they are increasing in numbers — real people voting with their feet: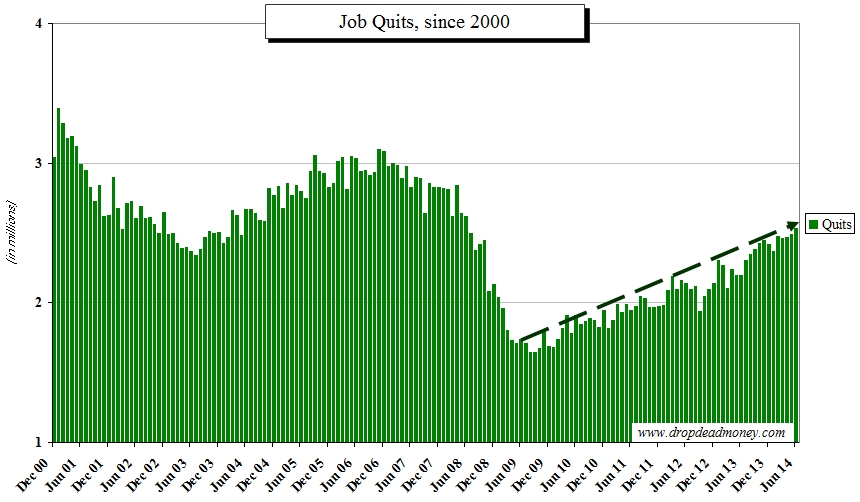 Two trends are evident from the chart: since 2000, the general level of quits seems to be trending down. Because this recovery hasn't run its course fully yet, it's too early to say if this peak will end up being higher than either or both of the previous two peaks. (In case you were wondering, the quits number does not include retirements.)
There Is Good News
The second trend, though, is the one that should encourage you if you are thinking about changing jobs: The dotted line arrow shows how the number of quits has been steadily rising for the five years since the previous recession bottom of late 2009.
You all know the old truism, "The economy always goes up and down." Few people know how to anticipate those swings and, more importantly, how to get the most value out of them. You can't go by feelings or what the media tell you: They're only interested in attracting eyeballs, and sensationalism always draws more of those than sober truth (to which the world's geeks sadly sigh).
The charts above give you a general idea of job prospects. Now is as good a time as you'll probably get in the next ten years to make a move.
It's not going to be long before the next recession hits. There is always a recession (and a recovery) in your future. Those cycles usually last seven to ten years from one bottom to the next. The last bottom was in 2009, which means the next one is probably due between 2016 to 2019. Keep in mind that it takes about two years to reach the bottom from the peak.
History, then, suggests that the next peak will happen any time between 2014 and 2017.
You also know when times are tight, employers freeze hiring and focus on thinning the herd, so to speak. You may have another year or two to chase that opportunity you were eyeing.
Don't wait.
Also, now is the time to cement your stature in your department or division. No matter what anybody says, layoffs are not always done only with seniority in mind: Employees with the most flexibility and competence always survive. Those willing to do tasks outside of their formal job description, with a helpful attitude, and the ones who increased their job skills.
In conclusion, the early years after the Great Recession, and what you read in the media, may have convinced you this is not a good time to make that change you've been contemplating for years. Conditions may not be perfect (when are they ever?) but they are probably as good as they're going to be anytime in the next ten years.
What do you think people should do with this information?